The Company
SimMine is a service company that provides simulation products and services for the mining industry.
The staff includes engineers, financial experts and programmers, each possessing expertise that enables us to evaluate every aspects of a simulation project. The company is based in Malå, Sweden, right in the centre of the base metal and gold mining area Skellefteå District. SimMines's strategy is to develop mining simulation products and services towards an international market. To be competitive the company puts large efforts into well thought out products and services that help our customer to maximize their profit and benefit from future investment or production changes.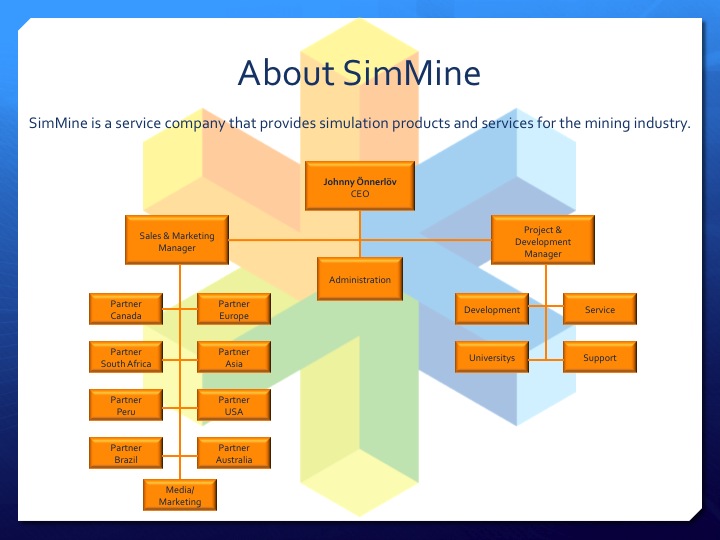 Johnny Önnerlöv
CEO
Johnny Önnerlöv has over 40 years of professional mining experience. He has worked at several Mines in Sweden  as Mine Manager and has also over 10 years of experience of teaching Miners and Drillers in an enhanced training program. For the last 15 years he have been active in SimMine and are the owner and CEO of that company. SimMine is the leading Simulation package that are Mining Specific. Johnny has entensive mining experience from Mine Projects development and production. He has been working over the years as a Miner, loader, rig operator, shift foreman, production planner, mine captain and mine manager. Johnny has in this project the real understanding of development in mines and will therefore see to the benifits for any mineproject in the simulation process.
History
SimMine was founded in Malå, Sweden, in 2000 under the name Önnerlöv Consulting Group.
Originally, the company consisted of former mine manager Johnny Önnerlöv, mining engineer Niklas Frank, and economist Patrik Stenlund. The company's first assignment was a pilot study of mining simulation applications for LKAB Kiruna mine. Since then, SimMine has conducted a number of projects for the mining community.